Celebrating Changemakers 2022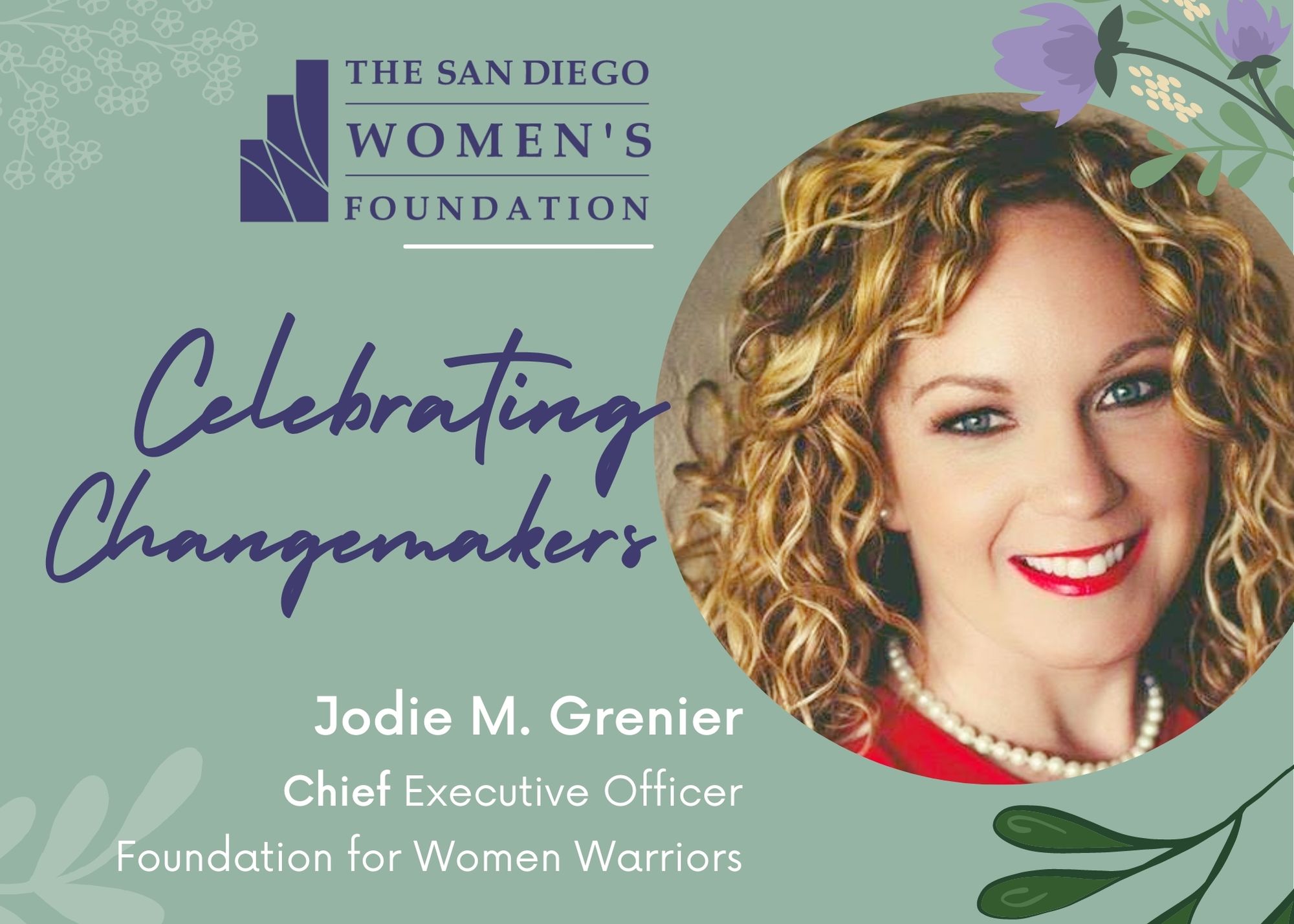 In honor of Women's History Month, we're spotlighting women making a positive impact in our community through a "Celebrating Changemakers" series.
Our next spotlight is Jodie Grenier, Chief Executive Officer of the Foundation for Women Warriors.
Jodie was nominated by SDWF Philanthropy Fellowship Member Kelly Wilkinson, who shared that she is inspired by Jodie because she is "is driving change for women veterans across the nation, a group that has long been underserved and overshadowed. A Marine herself, Jodie leads with her personal experience and leverages that influence as she informs programming and advocates for services to help active duty and veterans integrate into the civilian community following their service. Jodie's unwavering commitment to investing in and empowering women through dignified services & community building is present in everything she touches."
Learn more about Jodie below.
What inspires you?
The underdog. Stories of people who overcame the odds stacked against them. The women who served in defense of our Nation long before me.
Who are your heroes in real life?
I think everyone has a little a heroism in them. Its important to recognize that in each person you meet. Its also important to realize heroes are humans too. Its about appreciation and not worship.
How do you hope to make difference in our community?
Through our work at FFWW we enhance the economic and personal wellbeing of women veterans.
What work are you engaged in to make a positive change in our community?
I oversee all operations and am responsible for ensuring our local communities are aware of significant achievements and current challenges within the women veterans community. I work with our board, donors, team, and volunteers to ensure women veterans and their families are thriving in their post military lives.
What is your idea of perfect happiness?

Another day on earth driving towards a goal bigger than myself.
Thank you, Jodie, for all of your efforts to support women veterans in our community and beyond!