Celebrating Changemakers 2022
Katie Sawyer, Senior Director, Donor and Community Engagement at The San Diego Foundation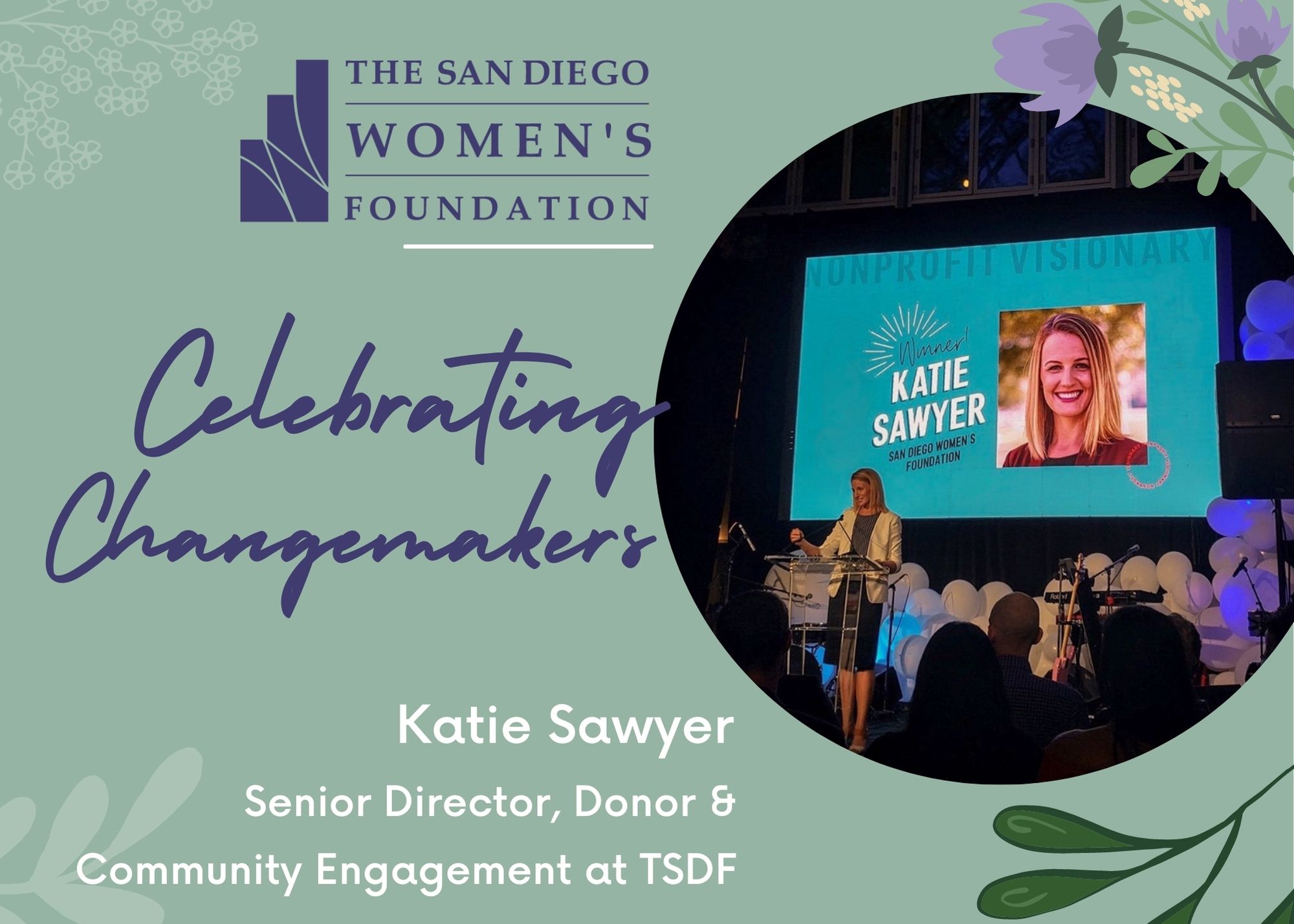 In honor of Women's History Month, we're spotlighting women making a positive impact in our community through a "Celebrating Changemakers" series.
Our next spotlight is Katie Sawyer, Senior Director, Donor and Community Engagement at
The San Diego Foundation
.
Katie was nominated by SDWF Board Member Julie McKay, who shared "
One of the things that has always stood out to me about Katie is her ability to speak thoughtfully and confidently in public.  During her leadership at the Women's Foundation, she did an amazing job of representing us and what we do in the community.  She is very driven and although she has already accomplished so much in her career, I know she will continue on her path to success.  Katie's confidence, passion, professionalism, drive, and courage inspire me very much.
"
Learn more about Katie below.
Tell us one fun or surprising fact about you:
I once won a bronze medal in a jiu jitsu competition.
Out of three total competitors, but who's counting?
What inspires you?
I'm inspired by the nonprofits and funders who are challenging the ways we've always done things- tackling equity and power dynamics, and working to be better partners to the communities we serve.
What is your idea of perfect happiness?
A cup of coffee and a good book.
How do you hope to make a difference in our community?

I've never been afraid of a challenge, and I love to be a connector. Both of those things are important as we try to solve major issues facing our communities. If we work together, and we're not afraid to take the first step, we can do work that changes lives.
What work are you engaged in to make a positive change in our community?

I lead the team that helps philanthropists make a difference through grantmaking. We help TSDF fund advisors understand the most pressing issues facing our community, and how they can have the greatest impact.
Thank you, Katie, for your leadership (and humor!), and for all that you do for our community.
If you would like to stay up-to-date on Katie's work with The San Diego Foundation, check out TSDF's
website
or
Facebook page
.