How You Can Help
Do a Little or Do a Lot. It's Your Choice.
One of the things we are proudest of at SDWF is our "no-guilt" factor.
Do a little…
The San Diego Women's Foundation members commit to making their annual contribution and voting on final grant recipients. Every member has one vote. We do no fundraising. We have no obligatory meetings.
Do a lot…
Members wishing additional involvement are encouraged to serve on one or more of the committees listed below. For more information or to join a committee please email sdwf@sdfoundation.org.
---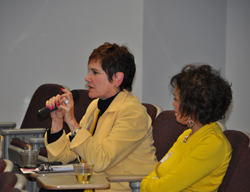 Our Committees
Collaboration Committee
This committee explores collaborative funding opportunities through a separate grants pool not tied to our overall focus area, which committee members contribute at least $500 on top of their membership dues.
Development Committee
This group designs and implements the organization's strategies to secure additional resources to further our mission.
Fellows Committee
Through a competitive nomination process, SDWF awards "Fellowships" to select staff members of our current/past Community Partners. Fellows receive a two-year membership scholarship and are paired with an SDWF mentor who helps them navigate our events and engagement.
Finance Committee
This committee develops the budget and maintains financial accountability for the organization.
Governance Committee
This group monitors our bylaws and standing orders to ensure our organization and its leadership are working appropriately and effectively.
Grants Committee
This diverse committee develops and implements a grants process, assesses the impact of previous awards, and continues ongoing and productive relationships with our community partners. The Grants Committee has three separate teams, each with its own focus and chair: D-I-G Team, Implementation Team, and Impact Team.
Marketing Committee
This committee develops and implements a marketing and communications plan to support the mission of SDWF. The committee will develop messaging and materials, press releases, media stories, oversee the website and social media efforts.
Membership Committee
This committee ensures a positive, engaging member experience through social and educational opportunities. The committee also promotes and grows SDWF through outreach to local women.
Programs Committee
This group provides programs that ensure we have the information and education needed to be effective philanthropists.
---
Want to help in other ways?
Here are some ideas…
SDWF welcomes additional support for special needs throughout the year. These include:
Individual member (angel) gifts
Additional contributions to the Endowment
Project sponsorships
Honorary or memorial gifts
Planned giving
Employee matching funds
Contact Katie Sawyer, Executive Director at katies@sdfoundation.org or 619-814-1374 for more information.